FEATURES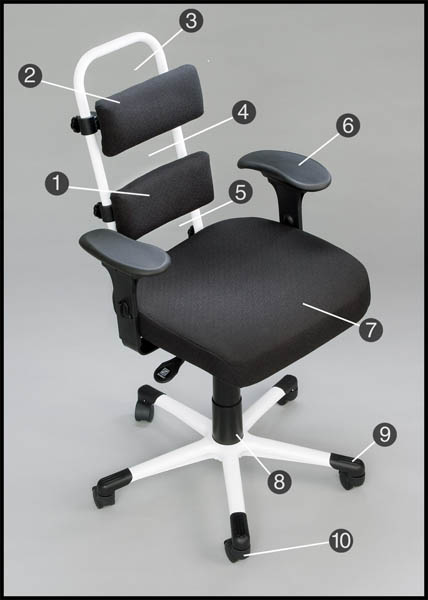 1 Sacral support adjusts in height, depth, and angle- critical for stabilizing the pelvis in its proper neutral position. Also stabilizes the lumbar spine and sacroiliac joints.
2 Lower thoracic support adjusts in height and depth- critical for proper alignment of the trunk, shoulder girdle, head, and neck. Elevates and stabilizes the rib cage, elongates the spine, prevents slumped posture, and promotes proper diaphragmatic breathing.
3 No support to upper back and shoulder blades- detrimental to healthy sitting posture by pushing the shoulders and head forward, and inhibiting diaphragmatic breathing.
4 No lumbar support - detrimental to healthy sitting posture by distorting the proper upright relationship of the rib cage and pelvis, with the upper trunk being displaced behind the hips. Sitting with lumbar support will relax the lower abdominal muscles, shorten and compress the spine, and increase stress to the neck and upper back.
5 No support to the posterior buttocks- detrimental to healthy sitting posture by pushing the buttocks forward on the seat, thereby preventing proper pelvic and spinal stabilization.
6 Armrests adjust in height & width- are positioned on chair to facilitate use of backrest and to prevent collapsing body weight forward on the armrests.
7 Firm, contoured seat- facilitates use of backrest, stabilizes the pelvis, and prevents weight bearing on the tail bone.
8 Pneumatic, adjustable seat height- critical for proper sitting stability with feet firmly on the floor.
9 Scuff Pads - Provide protection from scratching base & furniture. (Not available on 2007 chair base)
10 Casters- Available for carpets (hard casters) or hard floors (soft casters).
ZACKBACK Posture Chair is Built to Last!
" the ZACKBACK is built like a Mercedes-Benz."
Ed Walker, Editor, Home Office Journal

- All-steel backrest frame in black powder coat finish

- All-steel backrest components in black powder coat finish
- Heavy duty nylon-fiberglass base in black finish
- Heavy duty black nylon casters
- 10-year warranty excluding normal fabric and foam wear and tear
Dimensions / Technical Information
Seat Dimensions

Standard Seat Height range: 16 1/4" - 21 1/2"
Optional Seat Height range: 15" - 17 1/2"

Seat Width: 18 1/2"

Standard Seat Depth: 17"
Petite Seat Depth: 16"

Seat Cushioning

The ZACKBACK Posture Chair is manufactured using the highest quality neoprene latex foam available. Unlike the cheap polyurethane foam used in other chairs, neoprene latex foam will maintain its firmness and resiliency for years. Studies have substantiated the excellent pressure distributing qualities of neoprene latex foam compared to the shape distortions that are characteristic of polyurethane foam.
ZACKBACK Fabrics
100% Polyolefin: This breathable fabric has an abrasion rating of 250,000 double rubs. It will not absorb spills or stains and is mildew resistant.
- COLOR: Black and Taupe Pattern
CLEANING CODE: For water-based stains use water-based cleaning agents. For oil-based stains use solvent cleaner.
RAVE™ Leather Alternative (Urethane/Vinyl): Ultrasoft Leather Feel. Protected with PERMABLOK3® - mildew resistant, antimicrobial/antibacterial. Abrasion rating of 100,000 double rubs. Fabric backing is 100% Italian dyed-cotton.
- COLOR: BLACK
CLEANING CODE: Varies, depending on type of stain. Cleaning Guide included with chair order.
Flammability

The ZACKBACK Posture Chair meets the strictest flammability standard... California Technical Bulletin 133.

Warranty

The ZACKBACK Posture Chair is warranted for 10 years against defects in materials or workmanship, excluding normal fabric and foam wear and tear.
Pricing & Ordering Information
For current pricing, ordering information, and to request fabric swatches:
CALL 1-800-SITTING (1-800-748-8464)
All site contents are Copyright 2002-2022
The YogaBack Company
P.O Box 9113, Rochester, MN 55903
1-800-SITTING (1-800-748-8464)