Round Shoulders Misconceptions
"Pull your shoulders back!" Most of us have heard that command at one time or another from a teacher, therapist, or parent.
Strengthening the muscles between the shoulder blades to correct a round shoulders posture is an example of a segmental approach to posture that is also a misconception. A physical therapy study in 1990 did not support the prescription of muscle strengthening exercises to correct a round shoulders posture (DiVeta et al., 1990).
A holistic approach to posture considers round shoulders to be a general disturbance of the body's balance. In the sitting position, lower thoracic spinal posture, pelvic posture, head posture, and arm posture are all interrelated to round shoulders (Figure C).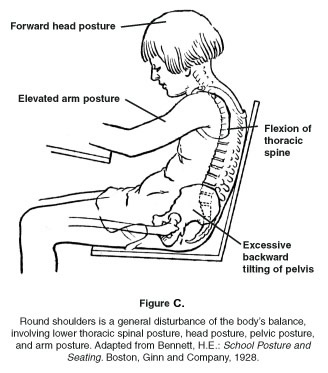 Therefore, round shoulders result from flexion of the lower thoracic spine, excessive forward or backward tilting of the pelvis, a reaching forward of the head, and a raising forward of the upper arms from their balanced vertical position at the sides of the hips.
So, the bad news is that pulling the shoulders back when sitting or standing will not correct a round shoulders posture. Moreover, it will only result in a different postural deviation that distorts proper body alignment and fatigues the upper back!
The good news is that by elevating the rib cage through the lower thoracic support, and stabilizing the pelvis in the proper neutral alignment through the sacral support, the YogaBack restores the proper alignment of the shoulders.
References
DiVeta, J., Walker, M.L., and Skibinski, B.: Relationship between performance of selected scapular muscles and scapular abduction in standing subjects. Physical Therapy, 70:470-479, 1990.
Fahrner: Das Kind und der Schultisch. Zurich, Schulthess, 1865. Translated in Cohn, H.: The Hygiene of the Eye in Schools. London, Simpkin, Marshall and Co., 1886, pp. 94-98.
Lovett, R.W.: Round shoulders and faulty attitude: a method of observation and record, with conclusions as to treatment. Boston Medical and Surgical Journal, 147:510-520, 1902.
Sucher, B.M., and Heath, D.M.: Thoracic outlet syndrome—a myofascial variant: part three. Structural and postural considerations. The Journal of the American Osteopathic Association, 93:334, 340-345, 1993.